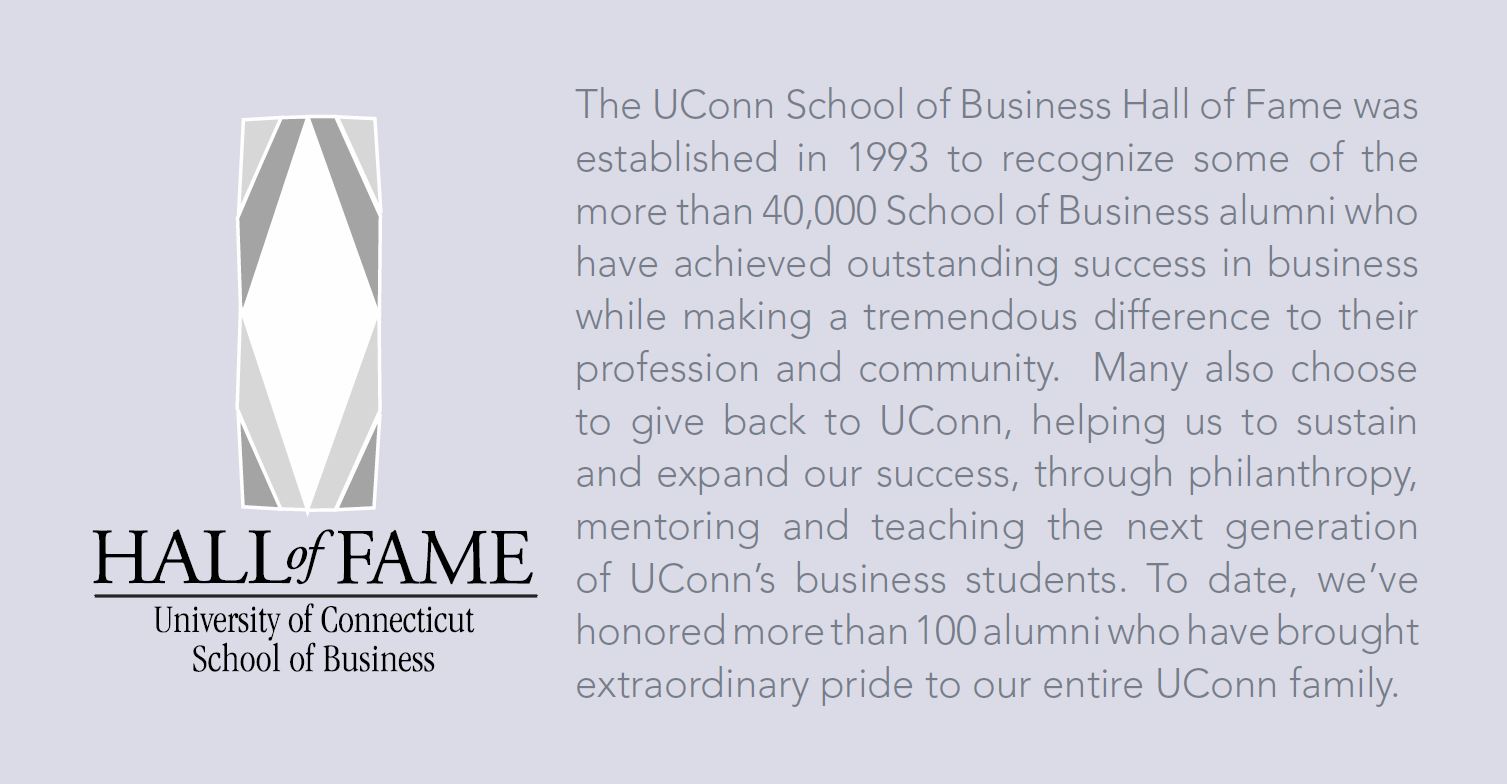 The UConn School of Business Hall of Fame was established in 1993 to recognize some of the more than 40,000 School of Business alumni who have achieved outstanding success in business while making a tremendous difference to their profession and community.  Many also choose to give back to UConn, helping us to sustain and expand our success, through philanthropy, mentoring and teaching the next generation of UConn's business students. To date, we've honored more than 100 alumni who have brought extraordinary pride to our entire UConn family.
2016 Hall of Fame inductees
DREW A. FIGDOR '83
Partner and Portfolio Manager
TIG Advisors, LLC
CORLISS J. MONTESI '86
Vice President, Corporate Controller
Stanley Black & Decker, Inc.
ROBERT C. HUGHES '92
Founder & President
Republic Systems, Inc.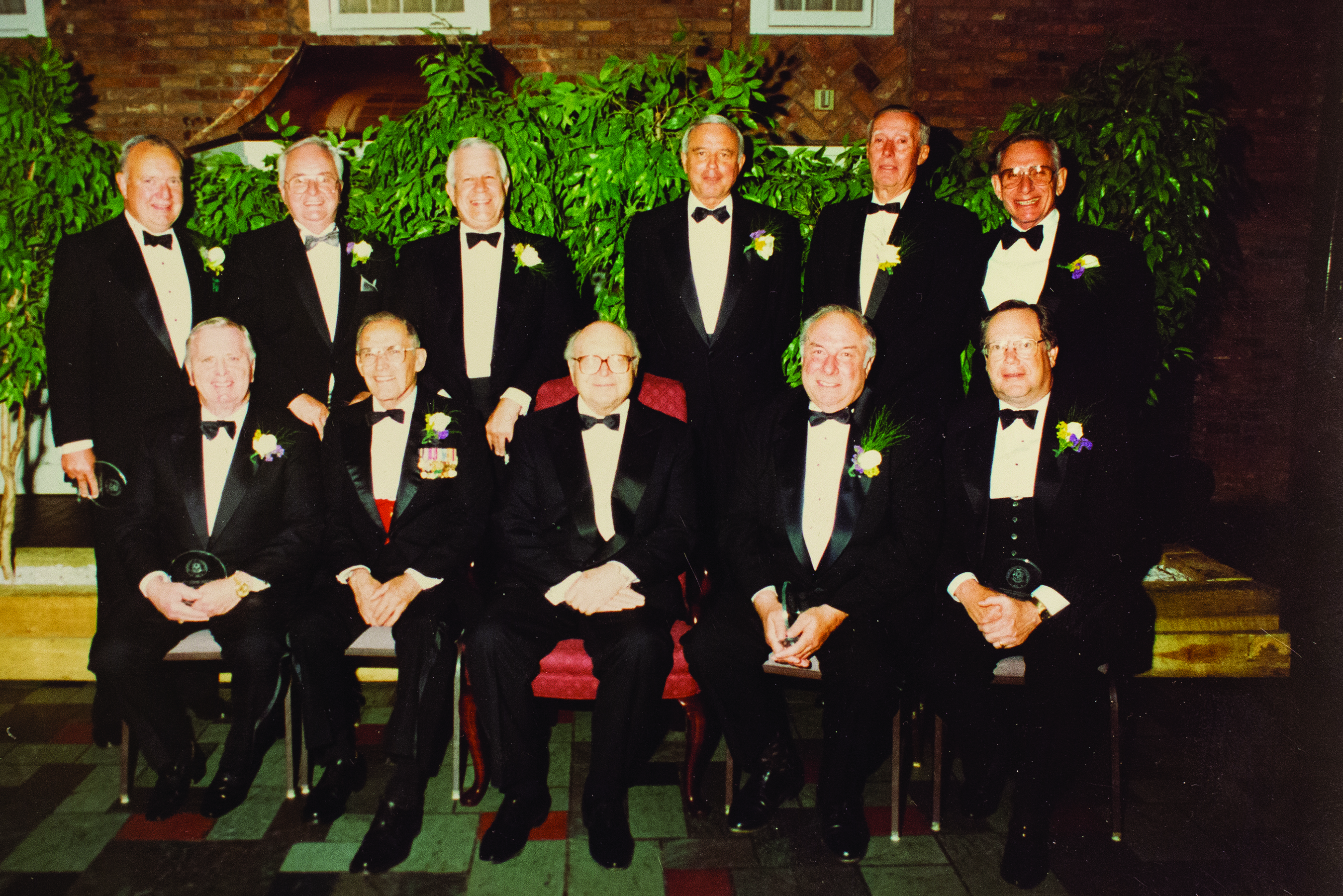 Members of the Hall of Fame
2015
Brigadier General James S. Creedon '53 (posthumous)
David B. Greenfield '84
Norman LaCroix '72
Wendy Reeves Watkins '74
2014
James V. Agonis '71
Kevin A. Bouley '80
Joann L. DeBlasis '76, '83 MBA
Amy J. Errett '79
Lisa R. Klauser '90
2013
Mark P. Coville '79
Myron Dickstein '61
Craig A. Douglas '77
S. Brian Simons '60
2012
Melinda T. Brown '77, '85 MBA
Gerald D. DesRoches '82
Sheldon F. Kasowitz '83
Edward M. Satell '57
2011
Carmen F. Effron '72, '81 MBA
Gwo-Duan D. Jou '89 MS, '92 Ph.D.
Lauralee E. Martin '79 MBA
William S. Simon, Jr. '81, '88 MBA
2010
Michael G. Koppel '78
Joseph E. Parsons '79
2009
Jonathan E. Beyman '76
John A. Cutler '66
Patricia Friar '80
Timothy Friar '80, '83 MBA
Walter C. Richter '81, '88 MBA
2008
Brian P. McKeon '84
Kevin P. Newman '75 MBA
Elease E. Wright '76
2007
Joseph D. Filomeno '51
Thomas B. Hazuka '73 MBA
Michael E. McPhee '81, '94 MBA
Arthur K. Stengel '76
2006
Joseph R. Bronson '76 MBA
Robert S. Goodman '55
Eric A. Marziali '80
Deborah M. Reif '95 MBA
Daniel D. Toscano '87
2005
Theresa A. Bischoff '75
Mark L. Boxer '87 MBA
Timothy A. Holt '75
Robert T. Kaufman '74
2004
Robert E. Diamond Jr. '77 MBA, '06 HON
Douglas G. Elliot '82
Michael Friedman '77 MBA
Dr. Jon P. Goodman '77 MBA
Jonathan M. Schofield '62
2003
Anthony J. Esposito '65
Samuel D. Ewing, Jr. '64 MSE
Robert M. Kaye '58
Grace P. Lee '82 MBA
2002
Michael P. Golden '84 MBA
Robert Rodin '77
David A. Rogan '80
Mark Shenkman '65, '07 HON
Bernard Sippin '52
2001
Keith R. Fox '80
David A. Gang '81
Janet M. Hansen '79 MBA
Patrick Harris '70
John Y. Kim '86 MBA
2000
Penelope A. Dobkin '76, '79 MBA
Herbert L. Dunn '61
Paul F. Fagan '49
Mark E. Freitas '81
E. Bulkeley Griswold '66 MBA
Christopher P.A. Komisarjevsky '79 MBA
Ronald J. Meoni '55
1999
Susan D. Abbot '81 MBA
John H. Dowd '47 (Ex '44)
Clinton G. Gartin '77
Lawrence D. Handler '67
A. Donald Iklé '56
Kamal Mustafa '71 MBA
1998
Bruce S. Butterfield '78 MBA
Brian J. Foley '74
Eugene J. Kelley '44
Ronald C. Licata '63
The Honorable Paul W. Speltz '69, '72 MBA
Joseph A. Zaccagnino '68
1997
Thomas O. Barnes '78 MBA
Jean M. LaVecchia '81 MBA
Raymond J. Martino '81 MBA
Marvin Pearlman '51
Arnold J. Price '53
John A. Somers '72 MBA
1996
David I. Barton '61
Aldrage B. Cooper, Jr. '59
Laura R. Estes '78 MBA
Gerald M. Lieberman '69
Denis M. McCarthy '64, '65 MA
Walter A. Rhulen '52
Sudhakar V. Shenoy '71 MSE, '73 MBA
Louis H. Ulizio, Jr. '64, '66 MBA
Charles P. Waite '57
1995
Janet A. Alpert '78 MBA
Scott S. Cowen '68, '10 HON
Peter S. Drotch '64
Roger A. Gelfenbien '65
Peter R. Gerosa '63
Philip H. Lodewick '66, '67 MBA, '14 HON
Richard W. Michaels '43
Frank L. Rainaldi '60
Arnold S. Zackin '57
1994
Dale R. Comey '64
Robert W. Crispin '75 MBA
Ronald D. Jarvis '65
David P. Marks, CFA, '69, '71 MBA
Denis J. Nayden '76, '77 MBA
Theodore R. Rosenberg '55
Mitchell L. Strauss '79 MBA
1993
Ronald J. Bushwell '56
Ozer U. Ciller '69 MBA
Robert Cizik '53
Harry A. Gampel '43, '93 HON
Robert R. Googins '58, '61 JD
Edward F. Heberger '58
Edward A. Horrigan, Jr. '50
Samuel Jaskilka '42
James F. McNally '54, '89 HON
G. Robert O'Brien '60
Gordon W. Tasker '47
Thomas J. Wolff '56