When the UConn School of Business was founded 75 years ago, it had just four faculty members, who split their time with other departments in the University. An accounting professor earned only $2,400 back then. The School began with one undergraduate student in 1941 and grew to 227 by 1963.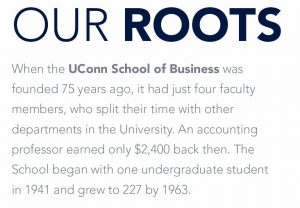 Today there are more than 112 faculty and 3,600 students who call the School of Business their professional home. Our alumni base is more than 40,000-members strong.
The past 75 years have been nothing short of remarkable in terms of strategic growth, said Robert Hoskin, a former associate dean and associate professor emeritus of accounting.
"There were four deans who served for 10 years or more and each significantly contributed to what the School is today,'' said Hoskin, who devoted three years to researching the School's history.
"Dean Ackerman had the longest tenure…the School was formed and grew into a very strong undergraduate program. During Dean Harvey's tenure, the School experienced tremendous growth in our MBA programs. Dean Patten would transform the School into a significant research institution. Dean Gutteridge would oversee the physical transformation of the School with new buildings in Storrs, Stamford and Waterbury, as well as re-engage the business community with significant experiential learning opportunities for students,'' Hoskin said.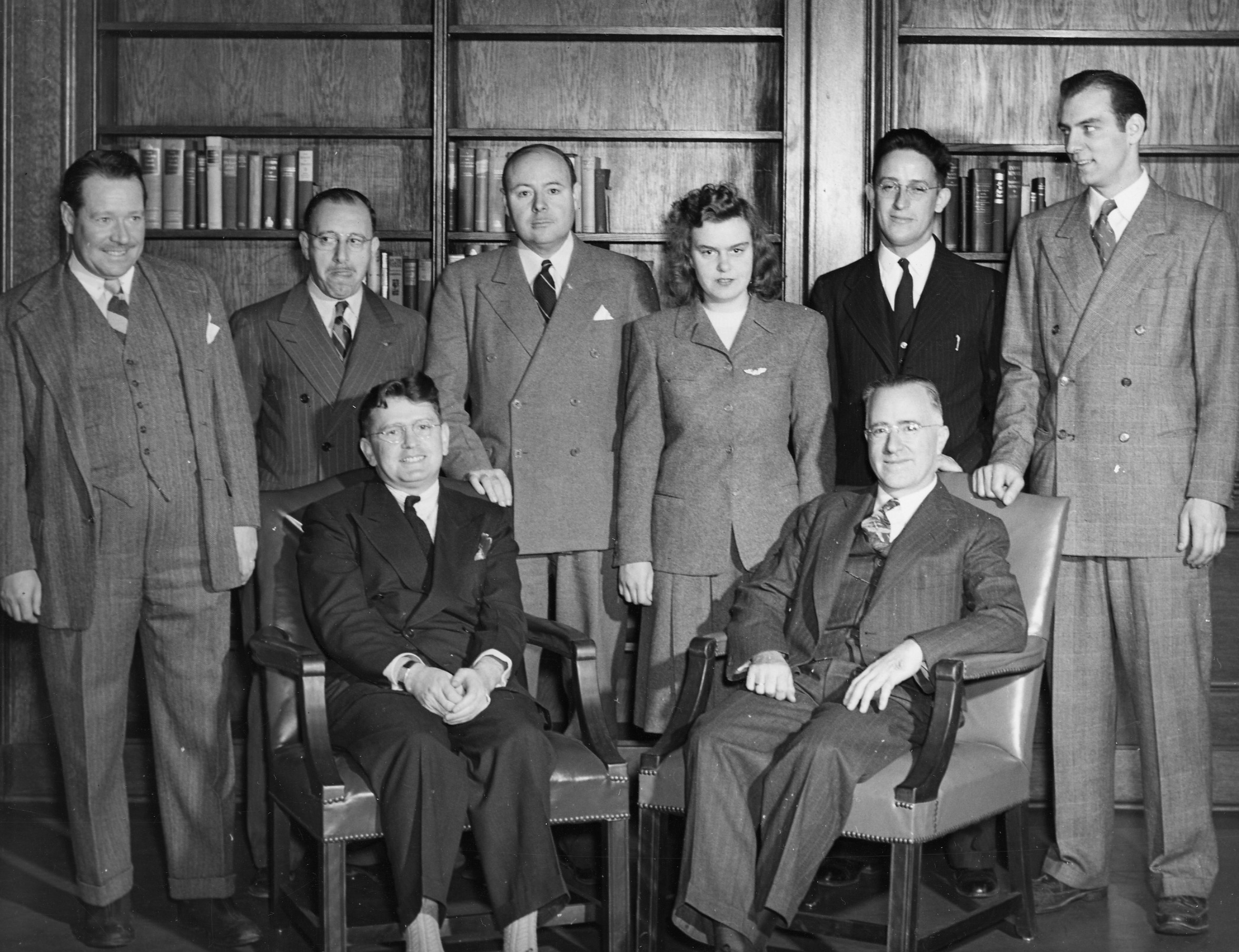 Meeting evolving needs
The School's beginnings are truly a tale of an exemplary learning institution rising from economic ashes.
It was in the midst of the Great Depression when the business curriculum was voted upon by the University's Board of Trustees. The program was initially within the Department of Economics, but went on to become a school in its own right within the University system, offering majors in accounting, secretarial studies and labor, among others.
Its first dean, Laurence Justin Ackerman, was announced in May of 1941. He served until 1963. In the decades to come, seven more deans and six interim deans would follow, all bringing structural and strategic change to the School with a unified goal: a place at the forefront of relevancy in terms of the business world around us.
The same year the School's first dean was announced, the U.S. was entering World War II. Two faculty members were granted military leaves. The University agreed to help G.I.s returning from the war, offering classes at Fort Trumbull in New London. From there, the School's reach gradually grew: overseeing the University's newly acquired Hartford College of Law and Insurance in 1943 and seeing a 90-percent jump in enrollment after the war ended in 1945.
The first MBA program offerings were approved for Hartford in 1956, producing UConn's first 16 MBA graduates three years later in 1959. In 1960, a contract with the U.S. Air Force established the MBA program in Storrs, which would fully open to civilians in 1964. Two years later, the MBA program was launched in Stamford.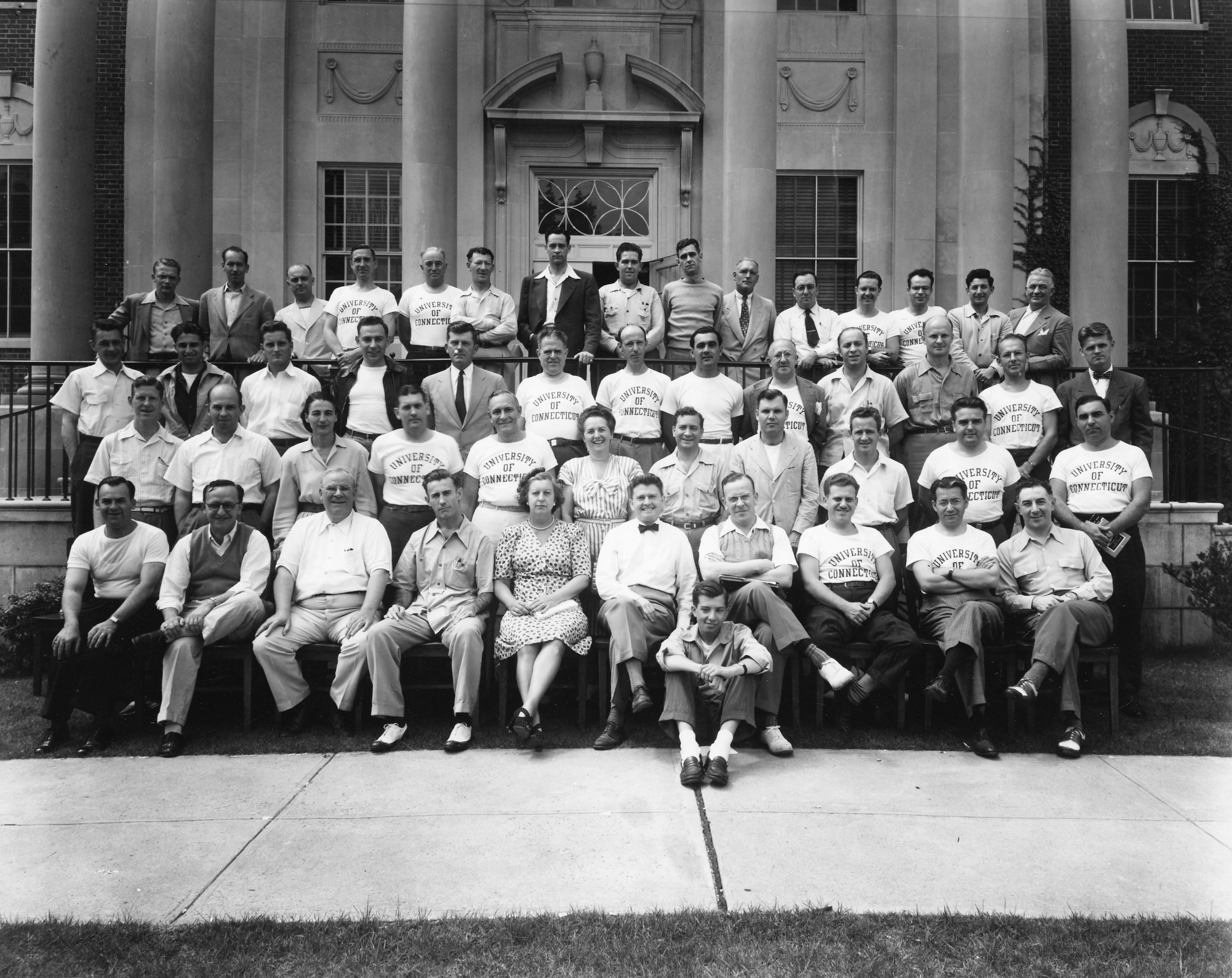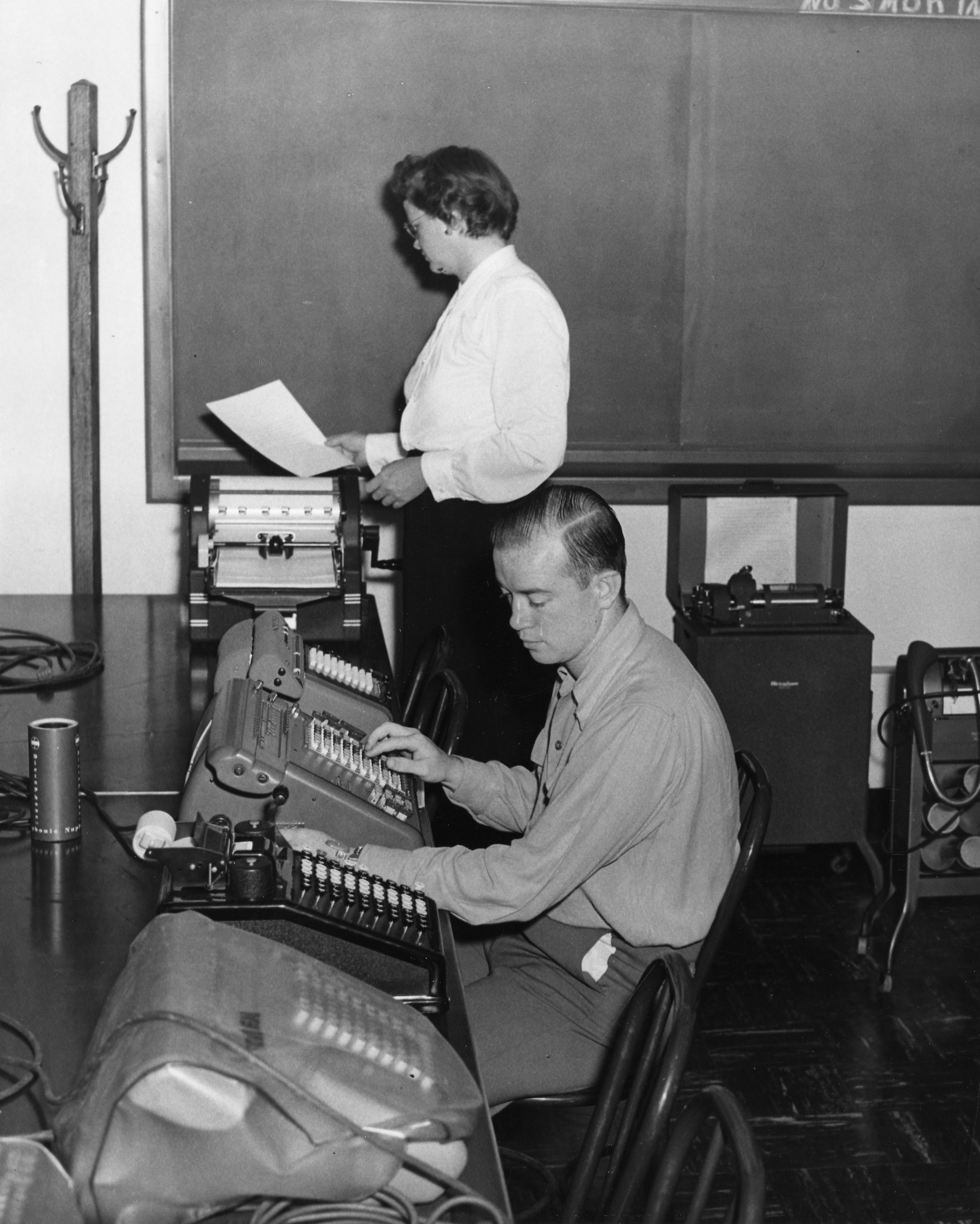 Expanding impact
The School, as a whole, became more focused on research in the mid-1960s, which was pivotal.
"That ranked us,'' said Karla Fox, professor emeritus of business law, who was interim dean of the School of Business from 2011-12 and also served as the business school's associate dean and MBA program faculty director. "We became more prominent nationally; we expanded. In addition to leading in teaching, we also became a well-known research institution.''
Later years would see Ph.D. and Executive MBA programs added; the opening of various centers; the forging of bonds with community corporations; the termination of the secretarial studies major; and the addition of innovative learning accelerators — all responses to changing times.
"The Ph.D. program…was a natural evolution of having a research-based faculty,'' said former Dean Ronald Patten, who laid the groundwork for the program.
"You have to help students understand the world they're going into,'' said former Dean Thomas Gutteridge. "They need to have internships and experiential education, so that they are comfortable translating what they learn in the classroom to the real world.''
The School of Business has grown not only in terms of its offerings and alliances, but also in terms of its geographic footprint. We now offer programs at five campuses, in Storrs, Stamford, Hartford, Waterbury and Torrington. We have a Hall of Fame for our accomplished alumni, who have gone on to be leaders in the business industry in their own right (See Hall of Fame). Our students head into the world with practical and progressive career expertise, helping the economy as a whole with relevant skills and innovative mindsets. Our goal is to continue educating future business leaders who make a difference.
"We are…not seeing what other [universities] are doing and trying to emulate,'' said Fox. "Connecticut is high-tech and financially oriented. We need to be on the cutting-edge of what is happening and what is needed. We have really done that in terms of globalization, data analytics, digital marketing and risk management. We've been in front of the curve.''