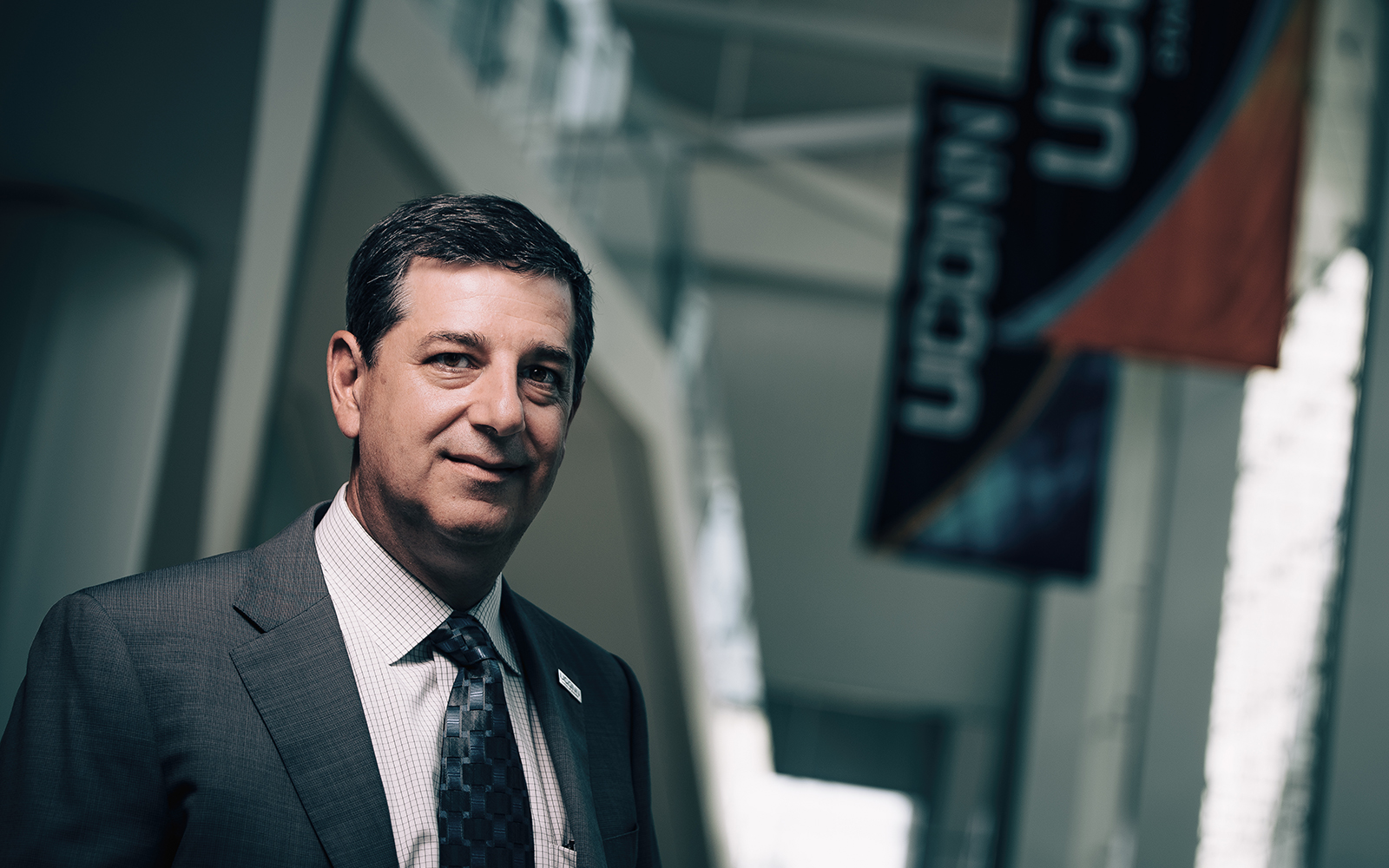 'Treat People Right Throughout Your Life' Says Former Walmart CEO Bill Simon '81, '88 MBA
A store manager had been abruptly fired in a small North Carolina town and Walmart president and CEO Bill Simon's phone was ringing off the hook.
Customers were irate, store associates were upset, and even the town's mayor called to lodge a complaint.
"Our store manager had chased a shoplifter into the parking lot, tackled him and brought him back into the store," recalled Simon, who earned both his bachelor's degree and MBA from UConn. "Our policy was that we don't chase shoplifters because of the risk of someone getting hurt, and he had clearly violated the policy.
"But when I looked into it some more, it turned out that the shoplifter had also assaulted our 80-year-old greeter, who was like a grandmother to everyone," Simon said. "Our policy prohibited chasing shoplifters, but it didn't say anything about chasing someone who commits assault.
"We were able to return the store manager to his job and everyone was happy," continued Simon, who was Walmart's top U.S. leader from 2010 to 2014. "Sometimes you have to apply judgement to a policy in order to run a business. Good judgement rules the day."
Humble beginnings in Connecticut
Despite his high-powered leadership status, running a $230 billion business with some 4,000 stores and 1.5 million employees in the U.S., Simon maintains his approachable, guy-next-door charm.
"I grew up in a rented house in Manchester (Conn.). My mom was a bank teller," he said. "I don't think for one minute that I got to be where I did on my own. I've worked hard and I've been very blessed. I believe you treat people right through out your life. Treat them the way you'd like to be treated."
Simon, who resides in Arkansas where Walmart is headquartered, returned to Connecticut in June to speak as a member of an executive panel titled, "CEO Evolution," at the UConn campus in Stamford. Simon received his undergraduate degree in economics in 1981 and an MBA in 1988, both from UConn.
"I think my fondest memory of UConn was that it was there that I started to realize that 'average' wasn't good enough. I showed up as a freshman and thought I'd just keep doing what I'd been doing in high school, sliding by. I had a very rough first semester grade-wise," he recalled. "Then I realized, 'You've paid for the all-you-can-eat buffet, you might as well eat!' I thought UConn was a challenging but safe place to grow into an adult."
After serving in the U.S. Navy for more than four years, Simon returned to UConn to earn his MBA in 1988. His wife, Tammy Thornton Simon simultaneously completed her master's degree in nursing at UConn.
"I earned my MBA in Storrs and I thought the graduate program was phenomenal," Simon added. "I still keep in touch with friends I made there."
Simon Never Planned to be a CEO
Although always ambitious and eager to learn, Simon said he never had his eye on the CEO post.
"I got to be CEO by not planning to be one," he said. "You have to take a job that you will enjoy and will allow you to learn. Many times I took lateral positions because I thought they were interesting. I think throughout your life you should be learning something new. It ends up having an impact on your breadth and abilities."
In addition to four years of active duty in the U.S. Navy (and 21 years in the Navy reserve) Simon worked in a variety of industries, including tobacco, soft drinks, the restaurant business and alcoholic beverages and for the Florida Department of Management Services.
When Simon was a newly hired executive at Walmart in 2006, he made a gutsy decision that he knew could make-or-break his career there. The low-price retail giant was meeting its cost-savings objectives on many fronts, but the profit margin on prescription drugs was high.
His leadership efforts led to the creation of a $4 flat-rate prescription price for many medications. The idea drew the praise of the Walmart Board of Directors, but criticism from some in the pharmaceutical industry. The gamble paid off, and Walmart's pharmacy grew from 5 to 15 percent of prescription medication sales in the nation.
"If your culture is built around saving people pennies, your leadership needs to be devoted to keeping your expenses at rock bottom," he said.
"Walmart is America. Some of what you see is heartwarming; some of it is tragic," he said. "We serve rich people, we serve poor people. You put out a good product, you sell it for a fair price and the customers will come."
Asked if there is a political or business leader he admires, Simon quickly mentions the late U.S. Navy Capt. Don Dyer, the commanding officer to whom he reported during his first tour of duty shortly after graduating from UConn.
"He said, 'The Navy seemed fit to make you an officer and I'm here to help you. If you make a mistake, tell me and we'll fix it together. Now go do your job. Your country is counting on you.'"
It was a leadership lesson that shaped Simon's belief in giving others opportunity to prove themselves. "I don't believe in putting people in interim jobs," he said. "I've always found if you trust people, more times than not, they won't let you down."
Despite the plethora of online shopping options, Simon is optimistic that brick-and-mortar stores will continue to thrive in the online age.
"By the highest estimates 20 to 25 percent of the retail business will go online, but 75 to 80 percent of merchandise will still be sold in stores," he said. "The shopping experience may change. You may try on clothing using 3D technology, allowing you to shop for 14 items in, say, 10 minutes.
"I remember when our kids were young and we always needed diapers. Sometimes we could have ordered them online, but sometimes we needed diapers now!," he said. "There has always been retail, since there were trading posts at the junctions of rivers. I think shopping will evolve and change, but there will always be physical retail."
A Plane Crash that Saved a Life
Simon, an avid pilot, received much notoriety after the single-engine Cirrus he was flying was involved in a crash in November 2015.
"I've always loved flying and I used to go to Baylor University every Tuesday afternoon," he said. "This one time I had two friends with me and something happened with the engine and we lost oil pressure."
He tried valiantly to make an emergency landing at an airport, but couldn't make it and deployed the airplane's emergency parachute and safely landed on a busy boulevard in Fayetteville, Ark.
"But here's the fantastic part," he said. "I went to the hospital with a black eye and my passengers had some bumps and bruises but were OK. While they were examining me, the ER doctor said to my friend, 'You were in a plane crash. I should examine you even though you feel fine.' Well, they discovered a large blood clot in my friend's heart, completely unrelated to the crash, but that could have caused a stroke at any moment. I don't believe in coincidences. The crash saved his life.
"I felt blessed that day. I don't know why things happen the way they do," he said. "But I wake up every day and try to do the best I can. The situation with the plane turned out well, but it could have ended badly."
'Your Career is Your Own'
Simon teaches a course in principles of leadership at Baylor, in Waco, Texas, where one of his sons is a student.
"I love teaching," he said. "I have two college-aged kids who don't pay attention to me and this gives me validation. These students write down what I say!"
And one of the messages he gives those students is that while everyone can excel in the classroom, only the most ambitious will be rewarded in the workplace. He encourages them to seize the day.
"Your career is your own. Take advice and listen to it, but in the end you'll make your own way. You have a choice. You can either take what is given to you or go get what you want on your own. I have 30 students in my class and they can all get an A if they want to. But in the real world, five people will get promoted, five will get fired, and the rest will wait around for something to happen."
Since leaving Walmart, Simon said he is busier than ever, running his own consulting firm and serving on various boards of directors. Asked if there was one favorite aspect of his time at Walmart, Simon doesn't hesitate.
During his tenure at Walmart, Simon would spend two or three days a week in the field. One of his favorite tasks was giving "battlefield promotions" to his employees. He would hear about employees who were outstanding and would try to "catch them" doing something great and reward them with an on-the-spot promotion.
"Those were the best days of my job," he said.