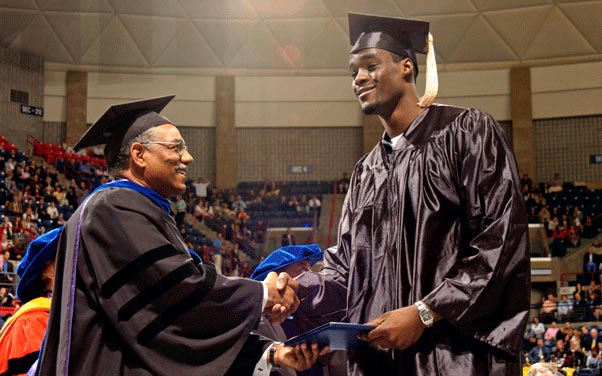 A Dozen Years After Graduation, Basketball Star/Finance Major Emeka Okafor Still a Favorite at UConn
Some of the members of the 2004 National Championship UConn Men's Basketball Team would wear a weight vest in practice to improve their endurance as they ran up the bleachers in the old Memorial Stadium.
Not Emeka Okafor '04 .
Instead, he carried one of the trainers on his back as he sprinted the bleachers. Okafor was so strong, athletic, and determined that after everyone else finished a grueling practice—he would stick around and shoot baskets for an hour or more.
"He has an inner drive to excel, something that doesn't seem to ever be quenched, that makes him the man he is today," said former teammate and friend Justin Evanovich, now a UConn professor and managing director of Husky Sport.
Although it has been a dozen years since Okafor graduated from UConn, with a bachelor's degree in finance earned in just three years, his name brings a smile to many faces at the School of Business and beyond.
He is arguably one of the top student-athletes to graduate from UConn, where he excelled academically. He was a pivotal part of the 2004 NCAA Men's Basketball Championship Team and was named the Big East Player of the Year, before beginning a professional basketball career. He is currently a free agent in the NBA.
"There's a lot to like about Emeka as a person," said former Men's Basketball Coach Jim Calhoun. "He's a wonderful athlete, a terrific basketball player, and was an outstanding student. I still talk to him now and then. He was one of the great, successful kids; one of the best to come out of UConn."
'You Can Be a Rocket Scientist' Okafor Tells Kids
Chukwuemeka Ndubuisi "Emeka" Okafor was born in Houston to parents Celestina and Pius, both natives of Nigeria. His first name means "God has done well" in the Igbo language.
From the time he was in middle school, Okafor's parents never checked that his homework was done, or even looked at his report card. They expected their son to achieve, and he did.
"My drive came from my parents," said Okafor, now 33. "They always wanted me to create a path toward success. They drilled into me 'education, education, education.'"
"I learned time management when I was in middle school," he recalled. "I was always a good student. I always liked school. I developed good habits in middle school so when I got to college it was second nature."
That's how he was able to graduate from college, with a degree in finance and a 3.8 GPA in three years, while playing basketball. Tom O'Brien, a finance professor and head of the department during Okafor's time at UConn, got to know him well as his faculty adviser. Among his many accomplishments, Okafor participated in the Student Managed Fund, which gives business students a chance to gain investment skills using real money.
"He told me, 'I want to learn how to manage a lot of money,'" O'Brien recalled. "I thought it was a business interest, but now I think he already saw that he was going to go high in the NBA draft."
The drive to excel academically is something he has passed along to his own child. By the time his young daughter was 2, he and his wife, Ilana Nunn Okafor, were teaching her the alphabet, colors, and to count to 13.
But his interest in children's success extends beyond his own family. Okafor has donated $350,000 to the Husky Sport Program Fund, which pairs UConn students and faculty with educational leaders and programs in Hartford's North End to enhance opportunities for city children.
"It's OK if you don't play for the Rockets. You can be a rocket scientist," he told hundreds of children at an elementary school in Hartford in 2007. "It's OK if you don't play for the Rams. You can be a veterinarian."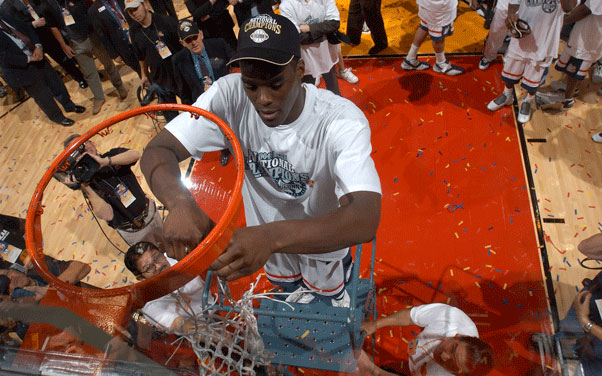 Calhoun Quickly Recognized Okafor's Potential 
Calhoun was on a scouting trip in the South when he came upon Okafor. The 6-foot-10, 260-lb. Okafor hadn't attracted the kind of attention that some of the other high school players had.
"Emeka wasn't on anyone's radar screen,'' Calhoun recalled. "I fell in love with his game. After I saw him play, I said, 'I think I've figured out how we can win another national championship!'"
Okafor chose UConn over Arkansas and Vanderbilt. From 2001 to 2004, he played with UConn greats Charles Villanueva, Marcus Williams, Hilton Armstrong, Ben Gordon and Josh Boone, all who ultimately played in the NBA.
"Early on he was not a big-name player, but had a big game," Calhoun said. He was imminently coach-able, but he wasn't afraid to politely question decision. "He is a special guy. In 40 years of coaching, you get a lot of good ones but Emeka, he's one of the very special guys."
Okafor's claim-to-fame is his defensive talent, especially his shot-blocking. Despite being plagued by back problems for much of the 2003–04 season, Okafor led UConn to its second national title in six seasons by defeating Georgia Tech for the championship.
"Being in the Final Four and winning the National Championship was the highlight of my college career. It was an unbelievable experience and one that I will always treasure," he said.
Okafor was named the NCAA tournament's Most Outstanding Player. In addition, Okafor led the nation in blocks that season and was also named National Defensive Player of the Year by the National Association of Basketball Coaches.
He graduated as Connecticut's leader in blocked shots with 441. Okafor was made a member of the 2004 U.S. National Men's Basketball Team which represented the U.S. at the Olympics in Athens and won a bronze medal. In February 2007, Okafor was inducted to the Husky Ring of Honor at UConn.
Okafor recalls that one of his professors in a summer class in 2003 predicted good things would happen for the team. He thinks the good wishes rubbed off.
"The following year, we won the championship," he said. "Often times I'll think of that!"
Known as a leader, Okafor said it is a trait that shows up in different ways and times. "I've always believed you should show up and do what you're supposed to do. I like to keep people going in the right direction," he said. "If I see people going askew, I try to corral them and keep them on track. That's my style."
Former UConn President Phil Austin was at the helm of the university in 2004 and witnessed not only the men's national championship basketball victory but the women's as well, beating archrival the Tennessee Lady Vols.
After the men won the national championship, the university got a call from a cable TV station asking Okafor to come to New York for an interview, which he willingly did. The interview lasted less than 10 minutes, a short time considering the 240-mile round-trip travel from Storrs.
Austin said he apologized for asking the basketball star to spend so much time in travel, but Okafor was exceptionally good natured and shrugged it off. Another student would have been disappointed or annoyed, but not Okafor.
"Emeka is an outstanding young man. In addition to being an excellent student and athlete, he is a fine gentleman, mature beyond his years and a warm, friendly person," Austin said.
'To Have That in My Back Pocket Is Priceless'
Despite a grueling academic and scholastic schedule, Okafor insists he found plenty of time to enjoy a social life at UConn.
"I remember arriving on campus and getting there early to get the lay of the land. I walked into the dorm room that was the size of a closet and thought, 'This is where it's happening!'" he joked.
"Because I'm from Houston, we don't have much of a Fall. The leaves go from green to brown and that's it. Driving up to UConn, I remember seeing the bright reds, yellows and oranges, and, later, watching it snow and remembering how different it was from home."
"I had an absolute blast at UConn," he said. "I'm still friends with my teammates and friends from my freshmen year in Shakespeare West. I had a good academic, athletic and social experience."
The decision to study finance was an easy one, Okafor said. "Business intrigued me," he said. "I always liked numbers."
"He was a great student and a great finance major," O'Brien said. "He would overwhelm his studies. He was one of the very best. He dominated his school work. He, naturally, spent a lot of his time playing and practicing basketball so he really had to squeeze in his scholastic excellence with the rest of it."
"Having a business background helps with many things, like managing money and taxes and so much more," Okafor said. "For me it was an excellent base. To have that in my back pocket is priceless."
"I would say students today should make their college experience well rounded," he said. "Hit the books hard, but also talk to people and make many friends. This is a very special time; a very unique situation to have your peer group and time just to learn. Definitely embrace it!"
Okafor said today he is teaching himself to play the piano, he loves to read, and he is involved in several youth organizations that merge health, basketball and education.
Basketball and Beyond 
On June 24, 2004, Okafor was taken second in the NBA draft, joining the Charlotte Bobcats. The powerful center had a successful first season, adapting well to the demands of professional basketball. In 2005, he was named NBA Rookie of the Year.
In 2005-06, an ankle injury limited his playing time. But one of the highlights of that year occurred on Dec. 29, 2006, during a home game versus the LA Lakers, when Okafor scored 22 points, had 25 rebounds and four blocks in a nail-biting 133-124 triple overtime win. In 2008, he signed a six-year, $72 million deal with the Bobcats, then the largest contract in franchise history.
Okafor eventually was traded to New Orleans Hornets, where he played from 2009 to 2012, including his first trip to the NBA playoffs. He spent the 2012-13 season with the Washington Wizards, then was traded to the Phoenix Suns. A herniated disk in his neck has kept him from the game since.
Okafor said he talks to Coach Calhoun often and sees current Coach Kevin Ollie at the games. "The UConn family is a very close-knit unit," he said. "They're really like a second family."
Students will often ask Evanovich about Okafor and his athletic achievements. But that only scratches the surface of a man who is kind-hearted and family oriented, he said.
"What they don't know from the statistics is that he is such a special person, so humble, with a tireless commitment to improvement," Evanovich said. "He is just a kind person. At 6-foot-10, everyone turns and looks at him. I've never once seen him be rude. He is always kind."
When asked what his plans are after his basketball career is complete, Okafor bursts out laughing. "I have no clue," he said. "It's a wide world out there. I was fortunate to be able to follow my passion. I like to do things well, to find something to pour myself into. The challenge is to find that thing that gets you up and going in the morning."
Whatever direction his life takes after basketball, his friends predict he will remain as powerful an achiever off the court.
"I can tell you, without a doubt, he believes in making a difference," Calhoun said.
"There are a lot of impressive facets to who he is," Evanovich said. "He has a desire to learn about the world, to be a global citizen. He makes it a point to see the world, celebrate and honor that understanding."
O'Brien also sees a future in leadership for his former student. "Emeka was so brilliant, I could easily see him being a political or an international leader," O'Brien said.