Businesses Should Encourage Mentoring for Women, Minorities Says Alumna, SUNY Plattsburgh Dean Rowena Ortiz-Walters '96, '05 Ph.D.
A photo on the wall in Rowena Ortiz-Walters' office shows her spunky 5-year-old daughter nestled happily between her two big brothers, a big, mischievous grin on her face.
"Leadership is stamped all over her DNA. She's feisty, competitive, strong and confident," Ortiz-Walters says about her youngest child. "I don't want that to ever be stripped away from her. I want my daughter, and all young women, to have powerful female role models."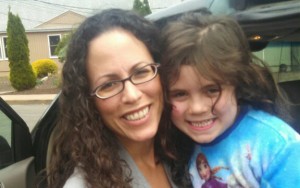 Ortiz-Walters, '96, '05 Ph.D., recently became the dean of the School of Business at State University of New York at Plattsburgh, making her only the ninth Hispanic-American dean of a business school in the United States.
But it was at UConn that this two-time alumna found her passion and her direction, identifying and promoting the importance of mentors for women and minorities in the work place.
Prior to her new role at SUNY, Ortiz-Walters worked as a professor and the chair of the management department at Quinnipiac University in Hamden, Conn. There, she was the co-founder and co-director for the Center for Women and Business. The Center's goals were to develop women leaders, engage decision makers in formulating policies that support women's careers, and help corporations leverage the full talent of their female workforce.
"I was teaching entrepreneurship, and out of 36 students probably five were women. My female students were very motivated, very bright, had a strong work ethic, but when we got involved in group dynamics, they moved to a more submissive role," she said. "I don't care if they want to stay at home or if they want to be the CEO. I want them to be well-informed, well-advised and able to take on leadership roles if they so choose."
Research has shown that women in the corporate world do not have the same advancement and leadership opportunities as men, a reality that is particularly acute for women of color, who make up only 16 percent of the S&P 500 labor force. And, as job levels increase, the number of women of color decreases dramatically, she noted.
Yet Ortiz-Walters remains optimistic.
"Certainly there is still much to be done in terms of the progress that women are making in the workplace. However, my role as a mentor to other young professional women has given me encouragement and makes me hopeful that there is a brighter future ahead. These young women have big aspirations, including aspiring to leadership roles. They are also savvy in recognizing the need for mentors and are proactive about seeking out the support they need."
Born in Puerto Rico, Ortiz-Walters' family moved to Bridgeport when she was a newborn. She excelled in math and science in high school, and passed up a full scholarship to Dartmouth, preferring the "large, noisy campus" in Storrs, more reminiscent of the inner city in which she grew up.
She earned a bachelor's degree in chemistry at UConn in 1996 and then accepted a job at Uniroyal Chemical Co. in Middlebury, Conn., where she formulated engine oil for cars and developed tests to ensure emission standards were met.
"I liked what I did, but I was very observant and a lot of the younger chemists were getting an MBA, and the truth is, I had no idea what that was!," she said. "They wanted to manage money and projects and people and extended their skills beyond science. I have a very competitive nature and said, 'I have to get one of those, too!'"
In 1999, after attending graduate school for two years in the evenings after work, she earned her MBA in Technology Management. That's when she realized a career in higher education was for her.
When she returned to UConn to tackle her doctorate, she met Management Professor Lucy Gilson and the friendship was instant. Gilson became a powerful mentor to Ortiz-Walters, who wrote her dissertation on the mentoring relationship and its impact on creativity in the workplace.
"When I look back, it all makes sense," Ortiz-Walters said. "I didn't stay at Uniroyal because I lacked mentors in a highly male-dominated industry. It may seem unconnected, but what I learned is that it is very connected."
In Plattsburgh, Ortiz-Walters oversees a staff of 38 full-time faculty and an undergraduate body of more than 1,000.
Gilson describes Ortiz-Walters as an incredibly hard worker, even re-taking a seminar when a new professor joined the faculty to ensure she had a solid foundation for her work.
"Since graduating from UConn, Rowena's career advancement has been nothing short of impressive," Gilson said. "She quickly became an expert in the the field of career mentoring, being invited to give presentations and contribute scholarly chapters on the topic. Rowena is a joy to work with and she will make an outstanding dean with her focus on detail, caring and results."