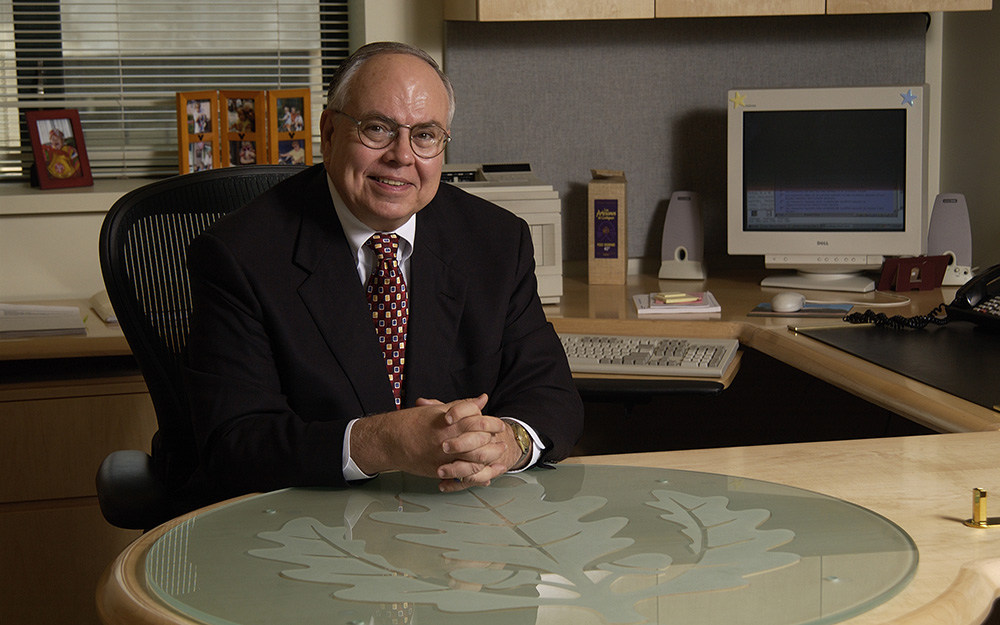 In 10 Years, He Moved School of Business from Regional Dominance to National Prominence
During the 10 years that Tom Gutteridge served as dean of the UConn School of Business, the program experienced tremendous growth, including the construction of a new academic building and creation of significant partnerships and programs within the business community.
"Tom not only served as dean of the School of Business, but took his role as 'chief evangelist' very seriously," said Rich Dino, a professor in the management department who served as associate dean under Gutteridge. "His overarching goal for the School was to move it from regional dominance to national prominence. His leadership supported and aligned our efforts with that goal.
"Interestingly, he served at a time, especially in the early years of his deanship, when most believed that such an outcome was a real stretch. The tactics he employed were simple – empower and motivate people to do their best, and excellence will prevail. It worked. And, as a result of his leadership, we became a player on the international platform of business schools."
Gutteridge, who served as dean from 1992 to 2002, is credited with initiating the school's Executive Education program, the UConn Center for International Business Education and Research (CIBER) program, the Student Managed Fund, the Ackerman Scholars program for faculty, the Hall of Fame, which recognizes accomplished alumni, and the Connecticut Information Technology Institute (CITI), all of which are in existence today.
Under his leadership, the university and GE created the GE edgelab, an accelerator program that, for 11 years, partnered graduate business students and faculty with GE executives to solve real-world problems for the company. It is still considered one of the most innovative partnerships between a business school and private company.
He also oversaw new construction in Storrs and Stamford and the relocation of the MBA program from the Hartford suburbs to Constitution Plaza in downtown Hartford.
Gutteridge is quick to shun credit, saying that deans are only as good as the faculty and staff who support them. "I'm proud of what we accomplished together," he said. But when asked about the longevity of the programs created during his tenure, Gutteridge said they were often concepts proposed by UConn alumni or business leaders which enthusiastic faculty spirited into viable academic offerings.
A New Building Elevated the School's Reputation
The creation of the new, $27 million School of Business building in Storrs, which still houses the school today, is among Gutteridge's fondest memories of UConn.
"The new building just changed everything," he said. "Not only what you do, but how you do it and how you're seen to the broader community. The new School of Business was a huge source of pride. It really took everything to a different level. Learning in a new environment brings a lot of energy to higher education and it also helps attract new faculty and students. We always had a high-quality program, but I believe the new building elevated it in the minds of the business community."
Constructed on land across from Gampel Pavillion, formerly known as Dow Field, the property formerly hosted softball games and, in the springtime, students played oozeball, a mud volleyball tournament. Groundbreaking occurred in April 1999 and the new building was completed in the summer of 2001, in time to be occupied for fall semester.
"As the dean I was the lightning rod to move it ahead. Dealing with professors, architects and consultants did take some time. It was a focus of what I did, but not all of it. I had a college to run!" Gutteridge said. "The blend of ideas from faculty and staff was important. After all, it was going to be their home." For a project of such magnitude, all went smoothly, he said.
Defining the Role of a B-School
Gutteridge's second legacy involved broadening the mindset of the faculty and staff to embrace the knowledge and opportunities afforded by alumni and business partners.
"At UConn, the faculty clearly understood its mission regarding teaching and research, and did an outstanding job of it. They were less excited about outreach and engagement. Having students 'learn by doing,' like managing an investment portfolio, was very new and different to them. I've always believed you have to help students understand the world they're going into. They need to have internships and experiential education, so that they are comfortable translating what they learn in the classroom to the real world."
"I hope I showed the faculty the importance of the business community and alumni groups. When I first got to UConn, that interaction just didn't happen that much. We had to start changing that culture. I saw a huge transformation. Helping our students find employment was always important, but it took on a new life when people saw how helpful these connections were for our students."
One of those highly successful projects was the Student Managed Fund. The $2 million fund was established in 2000 and is one of the most popular and prestigious programs in the School of Business. Learning to select wise investments has has been the catalyst that launched many successful careers for UConn students.
Likewise, the GE edgelab was very progressive, he said. The program succeeded because of the combination of a high-placed alumnus, Denis Nayden '76, '77 MBA, and the dedication of UConn Professor Jim Marsden, he said.
"As dean, it was my job to make it work, and then get out of the way," Gutteridge said.
The decision to launch the School of Business Hall of Fame was a means to recognize prominent alumni and keep them engaged with the school.
"I'm a big believer in an advisory board and alumni network for several reasons. First, you realize and celebrate what accomplished people your alumni are. For most people, an alma mater's recognition is very special to them," he said. "Secondly, it helps them get re-involved with their alma mater. They can be role models for students, telling them, 'I did this. You can do it, too.'"
The Former Dean Still 'Bleeds Blue'
Now at the University of Toledo, Gutteridge served as the business dean there for more than eight years and is now interim dean of the College of Social Justice and Human Service as well as Senior Vice Provost. He will be retiring from University of Toledo and academic life in 2016.
It has been some time since Gutteridge has visited UConn, but his fondness for his former home remains.
"I miss the people," he said. "The faculty and the business community were very enjoyable to work with. I've been a dean at three different universities, and it is always the people I miss most when I leave each place."
There is one other UConn tradition that Gutteridge has carried with him.
"I follow all the sports here at the University of Toledo, but not like my wife and I follow the Huskies' men and women's basketball," he said. "We're still big fans!"